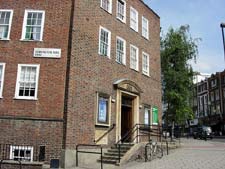 Following on from our recent look at the strategic design of public benches, BBC London's Jimmy Tam let me know about this story in the Camden New Journal:
A public bench has been removed from outside West Hampstead Library [photo from Pashmin@'s Flickr] after it became a magnet for street drinkers.
The Town Hall now plan to use "perch" benches in the area in a bid to cut anti-social behaviour.
…
Singer-songwriter David Thompson, 52, of Sumatra Road, has penned a song called Menches on Benches, celebrating the camaraderie among users of public benches. He said: "A lot of people who are down and out or just high on drugs sit there at night which might be the reason they took them away, but it's a weak society that sees removing them as the solution. You have a fellowship on the bench."

Norma Sedler, who lives in Hillfield Road, added: "Just because a few druggies and winos started ­sitting on the seats the KGB come along and take away our lovely seats with proper backs and slats and all we have left is to sit on the pavement. When I was a kid there were always old people watching the world go by. Now I'm old myself, it's nice if you're going on an errand to sit down on a bench."
Is it not the council's action which is the anti-social behaviour here?
Rolling bench
On completely the other side of the coin, this (via) – thanks to Ray Stone for telling me about it – seems a clever piece of design which actually benefits the user: the bench surface can be rotated after it's rained, so that a user need not sit on a wet surface. Some of the comments at YankoDesign do suggest that the underside could actually get wetter due to water running down the surface and not evaporating in the sunlight; this might be a valid concern.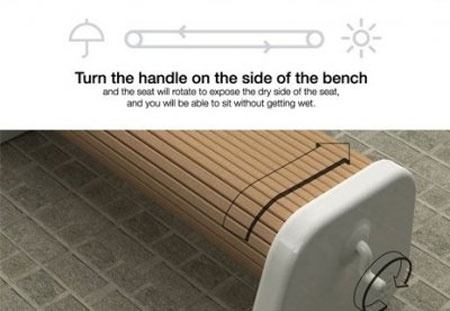 Interesting, though, how quickly it was before someone commented "How long would it take before somebody rolled a homeless guy off the bench?"
Bench design by Sungwoo Park, Yoonha Paick, Jongdeuk Son, Banseok Yoon, Eunbi Cho & Minjung Sim.