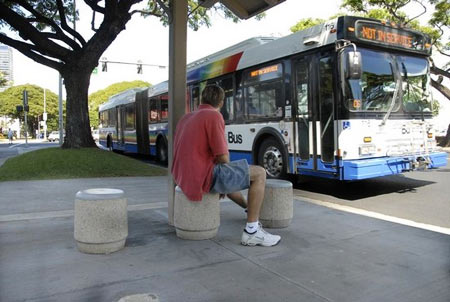 Stuart Candy of the brilliant Sceptical Futuryst let me know about authorities in Honolulu replacing benches with round 'stools' to prevent homeless people sleeping at bus stops (above image from Honolulu Advertiser story):
So far, the city has spent about $11,000 on the seating initiative, removing benches and installing 55 stools at 12 bus stops in urban Honolulu and Kane'ohe. Wayne Yoshioka, city Department of Transportation Services director, said the city will continue the program on a "case-by-case" basis in response to rider complaints.

"The benches were being used as makeshift beds by many people that were out there," Yoshioka said. "In an effort to provide areas for people to sit, but still discouraging people from sleeping, we started replacing benches with stools."

He added the issue is a "delicate one" that requires sensitivity toward the homeless who are being displaced from stops.
…
The City Council is also considering a ban on sleeping or lying down at city bus stops, though that measure has been stalled for several months.

For its part, the city says its effort to reclaim everything from parks to beaches to bus stops is about making sure everyone has equal access to public spaces. City officials acknowledge that the homeless population in the Islands, which advocates say could increase in the worsening economy, is one of the most hard-to-solve social problems facing the state. But they also contend that the city has a duty to make sure public spaces can be used by all.

Doran Porter, executive director of the Affordable Housing and Homeless Alliance, disagrees with the city's approach, saying it's dealing with symptoms – not the problem.
…
Michael Stoops, acting executive director of the Washington, D.C.-based National Coalition for the Homeless, said cities should concentrate more on providing shelter and services for the homeless and less on moving them from bus stops.

"It's a misguided effort," he said, of the Honolulu initiative.
…
Roger Morton, president and general manager of Oahu Transit Services, which operates TheBus for the city, said bus riders have a right to expect seating at stops. He added that seating is at a premium these days with buses so full … He said transit authorities across the country are increasingly buying "lie-down-unfriendly furniture" to keep seats open for bus riders.
The round stools look interesting; I'm not sure that (if you didn't know otherwise) they would immediately suggest that that's where you're supposed to sit, though I suppose it wouldn't take long to figure out. But apart from preventing people lying down, they also prevent people sitting next to each other. Friends, lovers, parents with young children all now have to sit separately (or on each other's laps). That's OK when there are stools in line close together, but what if they're occupied? You can't ask people to 'budge up' when the stools aren't big enough for more than one person at a time.
As people have suggested a number of times when we've discussed unfriendly benches before on the blog, some kind of lightweight guerilla seating apparatus might be useful, either cardboard or foam like Sarah Ross's wonderful Archisuits.