RSA Design Directions 2009/10
The RSA's 2009/10 Design Directions competition has been launched, which means up and down the country there are design students and new graduates working on one of the pretty wide selection of briefs. Given the RSA's aim of 'removing barriers to social progress' – with a significant commitment to using design to do this – the briefs are themed around design for social benefit, addressing issues ranging from helping an ageing workforce to helping new architecture graduates apply their skills in other contexts.
A couple of the briefs are explicitly about design for behaviour change, and thanks to working with Jamie Young of the RSA's Design & Behaviour project on some ideas for briefs earlier this year, the Design with Intent toolkit is explicitly referenced as a 'resource' for the Independence Days brief on 'reinventing assistive technology' (sponsored by the Technology Strategy Board) and A matter of life…, a brief about improving patient compliance with taking prescribed medication (sponsored by GlaxoSmithKline). Both of these are very noble causes and I hope the Design with Intent patterns are useful inspiration in some small way; I look forward to seeing some of the results!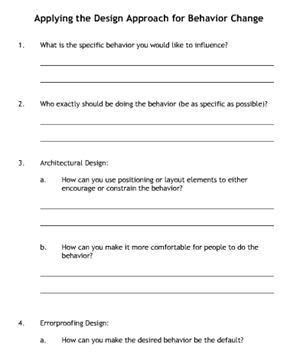 Design Approach worksheet
Nedra Kline Weinreich, author of Hands-on Social Marketing, has created a fantastic Design Approach for Behaviour Change worksheet based on the 12 design patterns from my Design with Intent toolkit poster.
By re-framing each of the patterns as a question – e.g. "How can you provide a cue to action at the appropriate time?" for kairos (discussed by BJ Fogg in his original book, Persuasive Technology) – Nedra turns the patterns more directly into cues for action themselves for a design team to brainstorm or think about. After working through the questions, asking each of them about the behaviour problem you're working on, you pretty much end up with a set of possible solutions: this is a very clever way to structure the idea generation process. (As such I've added a link to Nedra's worksheet to the DwI intro page of this site.)
Inspired by Nedra's thinking, the next version of the DwI toolkit, which I'm putting together at present, will have a question element to each of the patterns.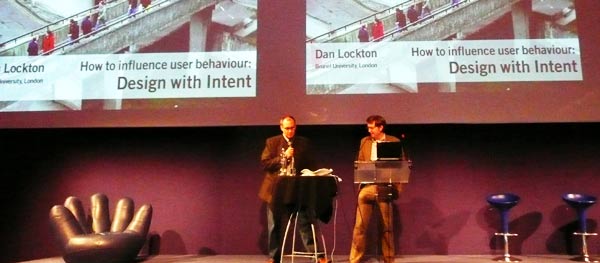 Design for Persuasion conference, Brussels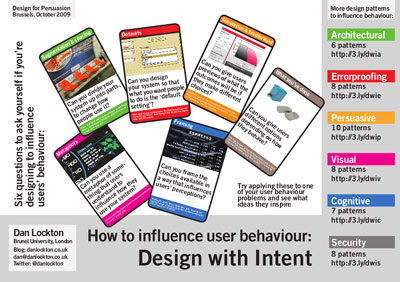 At the beginning of October I was honoured to be invited to speak at Design for Persuasion, a new conference taking place at the impressive Belgacom Surfhouse in Brussels, organised (very well) by Christel de Maeyer and BJ Fogg.
The event was mainly directed towards 'new media' persuasion and design, focusing on practical applications rather than academic studies, and featured some great presentations from people such as Richard Sedley (who kindly took the above photo for me!), Amy Shuen, Bart de Waele (whose excellent 'Addictive Websites' slides you can see here), and other expert practitioners. Many of the presentations are on Slideshare; there are also some very nice photos on Flickr from Katrien Degreef.
Here's my presentation (below) with a transcript here and image credits here. The handout (picture above right) I refer to is here [PDF].
Many thanks to Christel and BJ for organising this, and to the great people I talked to, including Nynke, Marijn and Arjan.


A pleasing statistic
Thanks to readers of this blog, the DwI toolkit v.0.9 poster [PDF] I originally posted back in April is at time of writing, the most-downloaded document ever from Brunel University's institutional repository, BURA. (Much, much more than any of our other papers, too!)
With 28,000 downloads since it went on BURA, plus another 5,000 or so directly from the blog before I changed where the link pointed, and probably a few directly from Google Books (as well as a handful of at-cost sales of the physical printed poster) it gives me an incredibly warm feeling to think that so many people all over the world have found it interesting enough to read (and hopefully – in at least some cases! – use) it. Please do let me know (in the comments, or by email) if you've found it useful (or useless), what problems you've applied it to, how you think it could be improved, and so on, or have a go at the survey.
The next version (v.0.95) will take a different form (cards – which some of you will have tried out in a couple of workshops) and include some new patterns, as well as 'question' phrasing as mentioned above. I hope to have this available to download (or buy as a card deck) by the end of 2009.
Thanks again for making the DwI toolkit a success!
Things which slipped by without me writing about them much here
The last few months have been very busy for me as I rush to progress the PhD in sufficient depth and breadth while still doing other things, and I'm aware that I haven't talked much about all this on the blog. I've been to the DiGRA conference and had great discussions with Ian Bogost and Sebastian Deterding; I've been to dConstruct and talked to Adam Greenfield; been to Greengaged and blogged about it for the site; been to a conference on Naturalistic Decision-Making and got some incisive advice from Gary Klein himself; and am about to present this paper [PDF] at Sustainable Innovation '09. With the help of some great participants (including Frankie who interviewed me here!) I've also managed to complete a series of Design with Intent workshops in which we've addressed a range of behaviour change briefs. The results of these workshops will be reported on here at some point soon, I promise!
So, stay tuned: as winter approaches, and sitting in front of a warm, glowing rectangle becomes more appealing, I will endeavour to blog more often and about more real examples of design with intent in the wild, a bit more like the blog used to be. Thanks for sticking with me.