Next Wednesday evening, 27th May, I'll be giving a presentation about Design with Intent at SkillSwap Brighton's 'Skillswap Goes Behavioural' alongside Ben Maxwell from Onzo (pioneers of some of the most interesting home energy behaviour change design work going on at present). I hope I'll be able to give a thought-provoking talk with plenty of ideas and examples that can be practically applied in interaction, service design and user experience. Thanks to James Box of Clearleft for organising this.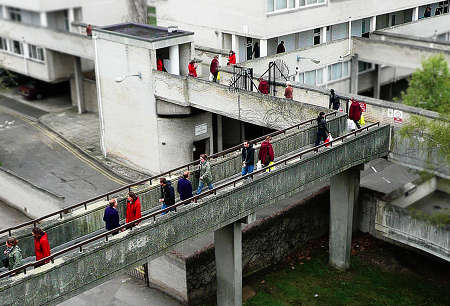 Then on Thursday 28th, I'm honoured to be talking as part of a symposium in Loughborough University's Radar Arts Programme's 'Architectures of Control' themed events exploring how our lives are impacted by social and environmental controls.
The symposium is interspersed with the performance of Mark Titchner's 'Debating Society and Run', which sounds intriguing. In the symposium I'll be talking alongside Professor David Canter, who seems to have had an incredible career ranging from environmental to offender profiling (inspiration for Cracker, etc) and Alexa Hepburn, senior lecturer in Social Psychology at Loughborough. Again, I hope my presentation does justice to the event and other participants! Thanks to Nick Slater for inviting me.
The week after (4th June) I'll be giving a presentation at UFI in Sheffield, best known for its Learndirect courses. I'm hoping to be able to run a bit of a very rapid idea-generation workshop as part of this talk, something of an ultra-quick trial of the DwI toolkit…