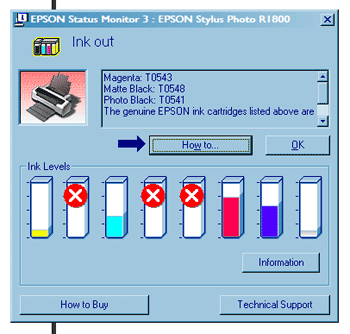 My Epson Stylus Photo R1800's been running low on ink in a couple of cartridges for a few days now. I've been putting off ordering them until this weekend. Now I find that when the printer believes a cartridge has reached 0%, it won't print anything at all, even if it doesn't need that colour. Users (i.e. me) are forced into buying new cartridges at a time when they don't actually need them in a pathetic exercise of Epson's control. Workflow is interrupted, plans out of the window.
So now, in order to print something important which needs to be done this afternoon, I am going to have to get on a train and go into a local town, wasting a couple of hours of my life and resulting in entirely unnecessary energy usage and carbon emissions. That's relatively easy for me: I live next to a railway station. But in areas of the world where it isn't convenient or possible, how can such thoughtless design be tolerated? Printers a few years ago allowed you to keep printing until the cartridges were actually empty. You knew when to stop because you could see.
Hey Epson: if you push your customers around, they'll walk away. Forever. It's as simple as that. People's time is precious. Convenience is important. There's no way I'll ever buy another Epson product or recommend them to anyone else. And I'm a techy guy: occasionally, people do ask my opinion on products. (Of course I'm going to buy cheap refill cartridges; ultimately I may have to get a continuous ink supply system)
Yeah, it's a rant; it's also a pathetic piece of design embodying absolute contempt for the customer.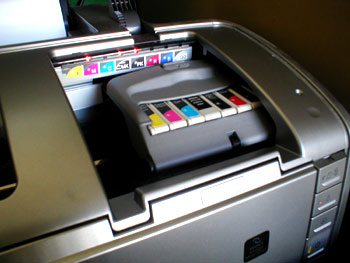 (Sadly the SSC Service Utility mentioned a few months ago doesn't seem to allow the ink levels to this particular printer to be re-set, though it's undoubtedly of great use on other models.)