Dan Lockton: Design with Intent: A design pattern toolkit for environmental & social behaviour change
2007-13, Brunel Design, Brunel University, London
Supervisors: David Harrison, Professor of Design Research, Brunel University and Neville A. Stanton, Professor of Human Factors in Transport, University of Southampton. Examiners: Dr Mark Young (Brunel University); Professor Graeme Evans (Brunel University); Professor Tracy Bhamra (Loughborough University); Dr Elies Dekoninck (University of Bath).
Current status: I submitted my thesis in January 2012, and at my viva in March 2012 received 'major corrections'. After substantial revisions, I resubmitted the thesis in December 2012. In May 2013, I was given access to the examiners' report, now requiring 'minor corrections', which I now need to do as soon as possible. I can't post the current version of the thesis online yet, but if you would like to read it, please email me.
I was a full-time PhD student from September 2007 – August 2010, funded by the Ormsby Trust and Thomas Gerald Gray Charitable Trust, and part-time from then onwards while working full-time on the (related) EMPOWER project at Brunel and the University of Warwick.
Abstract: This thesis describes a systematic research enquiry into influencing more sustainable behaviour through design, which has produced communicable new knowledge in the form of a design pattern toolkit, called Design with Intent, developed and evaluated through an action research process.

The toolkit aims to help designers create products, services and environments which influence the way people use them, primarily for environmental and social benefit; it brings together techniques for understanding and changing human behaviour from a range of psychological and technical disciplines, illustrated with examples, with the aim of enabling designers to explore and apply relevant strategies to problems.

'Design for behaviour change' has grown significantly as a field in the past few years, to a large extent due to recognition of the contributions that user behaviour makes to the environmental and social impact of technology — and designed systems in general. People's behaviour is inevitably influenced by the design of the systems which they use, and it is not a great leap to consider that design could be used intentionally to influence behaviour where some benefit would result.

This thesis starts by identifying the need for a guide for designers working on behaviour change. It extracts insights from reviews of perspectives on influencing behaviour from different disciplines, inside and outside of 'design', which could be usefully applied in a design context. Through an action research process of iterative development and workshops with design practitioners and students, these insights are incorporated into a toolkit for designers, which is applied mainly to environmental and social behaviour change briefs. Versions of the toolkit are made publicly available, and feedback from early users in different contexts is analysed and implications for continuing development discussed.
Publications arising from the PhD (so far) are now listed (and linked where possible) here. I also have a number of presentations on Slideshare which also provide an introduction to the PhD.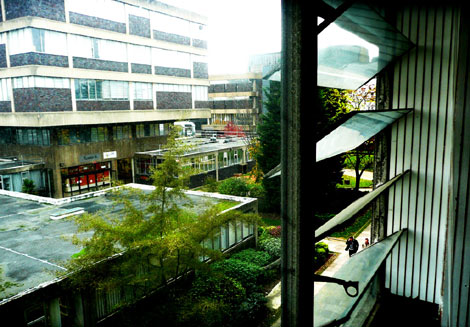 The office window, for a large part of my PhD.