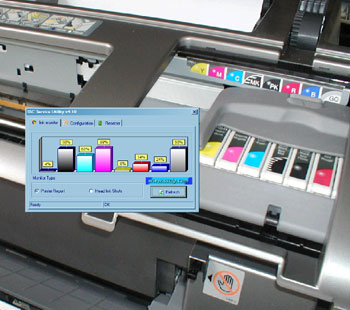 Via Boing Boing (& thanks too to Jeremy Tirrell for alerting me), a very useful piece of free software from the SSC Localization Group which allows the user to get round a variety of architectures of control designed into Epson printer cartridges, including:

A system which reports cartridges as empty even when some ink is still remaining, and forces users to waste that ink by preventing continued printing until the cartridge is replaced (a class-action suit over this has recently been settled – with every class member (in the US only) receiving a $45 credit in Epson's E-store)
The inability for a refilled cartridge's ink level to be 'refreshed' in the Epson status monitor, hence preventing users from refilling their own cartridges.
The SSC Service Utility, by offering a 'counter reset' for each cartridge, as well as a 'counter freeze' function and the ability to 'hot-swap' cartridges, gives users much more control over their printers, and in the process also offers some small environmental benefits in terms of reducing the number of waste cartridges.
On my own Epson R1800 the reported ink levels cannot actually be reset by the SSC utility, only frozen, but this allows much the same functionality in terms of allowing cartridges to be fully utilised, and given the price of the cartridges, will save me both money and time in future! So I'm very grateful to SSC for this. Now if only I were in the US, I could get that $45 too…
Boing Boing also notes instructions for defeating cartridge serial-number checks on Hewlett-Packard printers – also very useful (the Mister Inkjet site seems to be down at the moment).
(See also some other printer cartridge examples.)