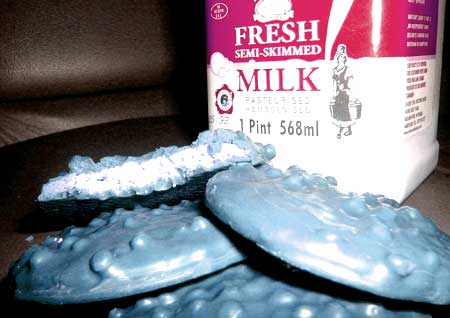 Jonathan Zittrain discusses scented advertising in bus shelters: the California Milk Processor Board recently tried a campaign with chocolate-chip cookie-scented "aromatic strips", intended to provoke a thirst for milk, in San Francisco before having to remove them after allergy/chemical sensitivity concerns.
The use of scent (fresh bread, coffee, 'new car smell' etc) as a persuasion method is nothing new in supermarkets and other retail environments – as part of coercive atmospherics, Douglas Rushkoff and Martin Howard both have interesting treatments of various approaches and results – but the balance does begin to shift when the application is so public. I would suspect a lot of the opposition in San Francisco was really more about the inescapable incursion of the commercial message into a public environment than the allergy concerns; as Jonathan puts it:
Unlike the use of even large billboards, there's no easy way to avert your nose the way you can avert your eyes, making the advertising much more invasive.
Nevertheless, I'm not sure that a less obviously "invasive" olefactory campaign would necessarily meet too much opposition if handled correctly. Imagine an air freshener manufacturer sponsoring a clean-up of a city's dirtiest/stinkiest bus shelters. Provided it were not overpowering, and not too sickening, would a fragranced bus shelter without a coercive angle be seen as invasive?
Or, to run closer to the milk-and-cookies example, what if, say, Nestlé were to fragrance bus shelters with chocolate milkshake scent in order to promote Nesquik? It doesn't have the same 'sneaky' aspect, though I suspect it would still be pretty irritating.