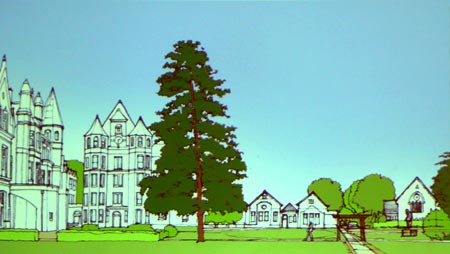 All sketches from John Thompson & Partners' 'Runnymede Campus Community Planning Broadsheet' and photographs of the public presentation. Apologies for the variations in image quality and colour balance.
This post's overdue but I wanted to have some real news (and images) rather than pure speculation.
Following Brunel's sale of the Runnymede Campus to Oracle back in May, Oracle appointed John Thompson & Partners as architects to explore options and develop a plan for what to do with the site. I was waiting for JTP to update the Runnymede Campus website, but as (at time of writing), the details haven't gone on there yet, here's a summary of what the vision/ideas/plans are, at least as presented to the public on Tuesday 16th October, in the Assembly Hall. In short: 150 residential houses/flats, 400 student rooms, and workshops / studios / labs space for businesses: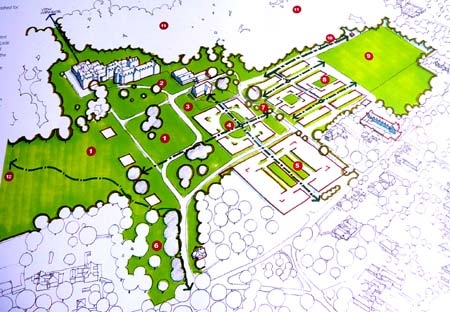 Extending parkland from the golf course into the centre of the campus by demolishing Marshall and Bradley (see sketch at top)
Demolishing Reed, Rowan, Scrivens, Williams, the Refectory and Refectory Hall and replacing this area with a 'quadrangle' development – a residential building set around a lawn with cloistered walkways to give a 'collegiate' feel
Opening up views and sight lines throughout the site, so that President is visible from the entrance (demolishing the library – below) and a restored Chestnut Walk is aligned with views right through to the golf course. This will also enable 'feature' trees currently hidden by buildings such as Williams and Marshall to be visible again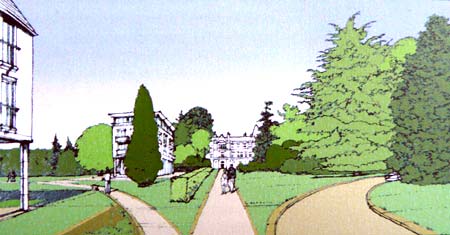 Using refurbished President, College and Pillar Hall as some kind of 'residential institution' (hotel, conference centre, care home, etc – unlikely to be educational)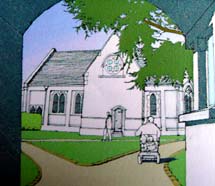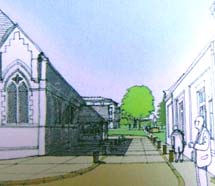 Refurbishing Kimberley and the Chapel (with first floor removed) and use "for a mixture of community and leisure purposes… such as health and fitness centre, swimming pool and café", with a new garden surrounding the Chapel
Demolishing the Gym, Ron's old Stores and the Workshops and replacing this area (along with the car parks and tennis court) with a new "residential neighbourhood" (below), probably including Royal Holloway student accommodation – 400 places, grouped around gardens with "a sustainable drainage system"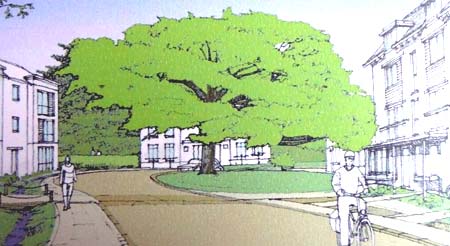 A new two-storey workshop / studio / laboratory building (below) in the walled garden on Cooper's Hill Lane, along the road edge, with new residential "mews buildings overlook[ing] a central courtyard" replacing the Science Park buildings behind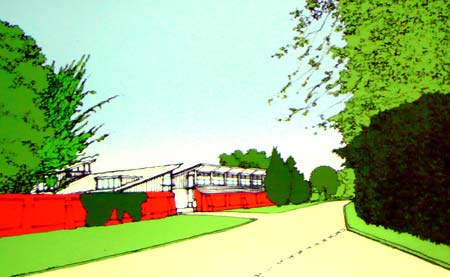 Three new "villas" along the line of the edge of the golf course (below) from where the library/archive centre currently is, right up to the northern end of Bradley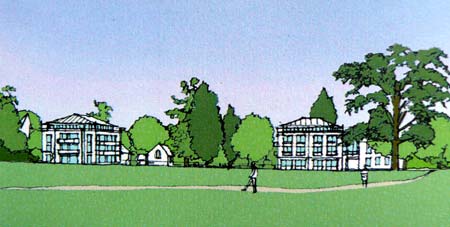 A "new pond/wetland" replacing the tennis courts down Oak Lane at the bottom of the golf course, a seating area/viewpoint at the top of the escarpment, restoration of the sunken Scrivens memorial garden, and a pavillion (for the playing fields) at the end of Chestnut Walk where the rubbish piles were.

The parkland and woodland will be managed and enhanced with public access offered to the community.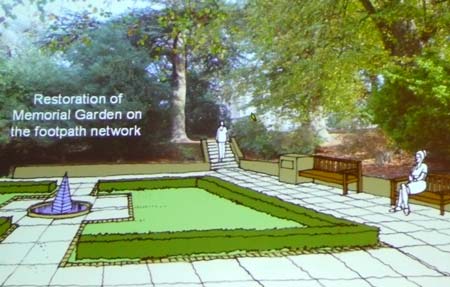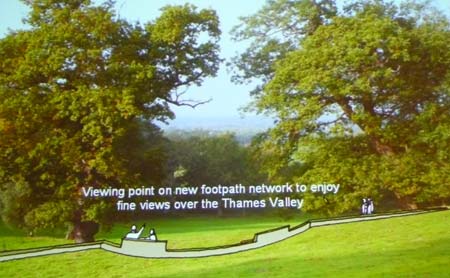 (It's not clear whether the student union building would be kept. It's still shown on JTP's sketch of the campus, but there is no elaboration of what would be done with it. The Mews are listed buildings at present and I would expect JTP intends to keep these for residential use, though whether student or private tenants, I don't know.)
Presumably all the above pictures, details and more will be on JTP's Runnymede Campus website in the near future.
It's clear that among the many other planning constraints (discussed further below), the amount of 'affordable housing' required by the local authority will to a large extent determine whether or not aspects such as the workshop space and student accommodation are viable. If the argument that restoring 400 student bedrooms at Runnymede will free up 400 affordable housing places in Englefield Green is accepted by the planners, then all well and good, but if not, then the campus might have to take a lot more housing, with all the resulting effects on traffic, noise, and so on. This would also mean that companies employing local people, such as Avco Systems, currently based in the Science Park, would have to move somewhere else in the area.
Overall, I was impressed by JTP's approach and the way in which they seem to have recognised many of the important and interesting aspects of the site, and incorporated them into their vision of a new community, e.g.:
The illustrative vision seeks to build upon the history of the site and to utilise the assets of the existing quality buildings and landscape. Existing quality buildings will be retained and their setting enhanced. Existing quality trees will be retained and will become the focus for the creation of new spaces.
This doesn't mean that I'm not somewhat cynical (so much is predicated on the affordable housing issue), but I'm willing to stay open-minded and I'd rather see positive, interesting plans for what to do with the place, such as those JTP showed, than simply allowing the place to deteriorate. It's not going to be an educational establishment again, but I'm sure most of us would rather go back to see something worthwhile being done on the site – including space for workshops, studios and labs – than it having been completely cleared and 800 identikit houses built.
JTP also seem keen to recognise and understand the heritage of the site, and what sort of activities and personalities have shaped it, including the Brunel Design era as well as the days of the Royal Indian Engineering College, the Cheylesmore family, Cooper's Hill Training College, and Shoreditch College. I spent an enjoyable two afternoons with JTP's Nicola de Quincey and Eva Nickel and other interested members of the public, discussing the history of the site, and walking round examining the buildings.
There is the possibility of some sort of commemoration of the Brunel Design era as part of the new development, whether in the form of plaques explaining to new residents some of what went on at the site, or even (as John Thompson suggested) statues or a sculpture trail. I've agreed to get back to them with more details of significant achievements of Brunel Design at Runnymede, down even to the sort of research advances that were being made, as well as interesting alumni and so on, so if anyone has any suggestions, please do get in touch (dan@danlockton.co.uk).
The next community meeting at Runnymede, open to the public will be on Tuesday 20th November, 7.30 pm in Pillar Hall.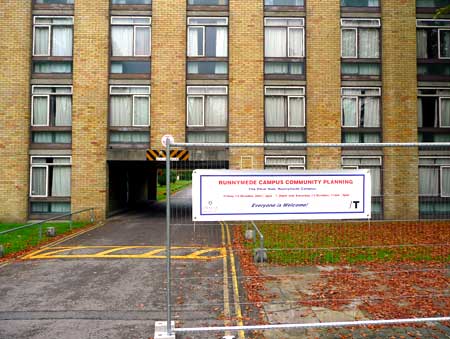 Background to JTP's process
These sketches and plans were presented to the public at a meeting in the Assembly Hall on Tuesday 16th October, after a two-day 'planning weekend' on the 12th-13th October, where local residents (mostly from Englefield Green) and other interested parties (from businesses based in the former Brunel Science Park in the walled garden on Cooper's Hill Lane, National Trust representatives, local councillors, and so on) were able to discuss with JTP their concerns, ideas and priorities for the site. The series of community meetings follows JTP's usual method of "collaborative planning".
What started on the Friday afternoon with a fairly confrontational atmosphere became more amenable as people felt their voices had been heard, but the main sticking point, initially at least, was simply that few could believe Oracle would have paid £46.5 million for the campus unless there was a specific plan in mind – and if so, what was it? As one resident put it: "Any business that lays out that sort of money without a solid business plan, return-on-investment calculations and fallback plan in place, isn't going to last long." The repeated reassurances from JTP's John Thompson and Marcus Adams that "We haven't got a plan" (exact quote) did seem somewhat unlikely, but in the hindsight of the rapidity with which the 'draft vision' was prepared (presented on the following Tuesday), it's clear that while they may not have had a 'plan', they certainly had (and have) plenty of ideas about how they would make the most of the site's opportunities, and the community consultation was intended to inform that, but not drive it.
it does genuinely seem that simply because of the many constraints (Green Belt, proximity of the Air Forces' Memorial, landscape importance, tree protection, wildlife, C2 'residential insititution' planning zoning, and most of all, continued need for (Holloway) student housing in Englefield Green), the process is not going to be as simple as Oracle doing whatever they want with the site. Green Belt requirements mean that nothing taller than existing structures can be built, and the 'footprint' of the existing buildings cannot be built outside (it can be moved, though). Targets in Surrey would suggest that anything between 25-40% of any development should be 'affordable' or 'key worker' housing – which does not include student accommodation – but as mentioned earlier, the argument might be made that by freeing up affordable housing in Englefield Green currently occupied by Holloway students, building new student accommodation at Runnymede would assist in providing affordable housing, if not actually on site.
John Thompson also made a couple of interesting comments during the meetings, which sought to allay fears and concerns felt by a number of people present:
There is certainly no intention to create a gated community on this site.
i.e. that the site will remain 'open' and accessible to visitors, especially given the intention to increase public access with walks across the golf course, viewpoints and so on.
This will be a managed site… there will be stringent covenants on what people can do.
i.e. that future residents of the site will only be (probably long) leaseholders: the site will remain as a single freehold unit, with a management company.
Background to the sale to Oracle
Talking further to a couple of people from Oracle, it seems that their winning bid for the campus (at least according to them) was in line with the market value and not by any emotional "Let's outbid Holloway" stance. Royal Holloway's bid was substantially less than Oracle's, and this King Sturge article [PDF] notes that other losing bidders (presumably closer to Oracle's in terms of value) included nursing and retirement home operators. Someone did make the point to me that Brunel, "as a charitable organisation" was legally required to accept the highest bid, and thus could not have sold the campus to Royal Holloway even if it had wanted to, but I don't know enough about the intricacies of charity law to comment on this.
Certainly, though, had (for example) the Higher Education Funding Council for England assisted Holloway, or had Brunel's attempt to become part of the University of London alongside Royal Holloway progressed further, I think we might have seen Runnymede remain in educational use. (Alternatively, of course, Brunel could have retained the site and used it for something worthwhile: I appreciate the revenue has enabled further expansion at Uxbridge, but the Uxbridge site's fairly densely developed now as it is, and I'm not sure how Brunel will expand in the future.)
Relevant websites
In addition to JTP's Runnymede Campus website, it's also worth keeping an eye on the Residents' Association's Englefield Green Village Brunel Development blog and Councillor Daniel Hamilton's blog for updates. John Williams and Jill Sandwell's Shoreditch College website is also frequently updated with news and historical information and photos – it was very interesting to talk to John last week. Len Breen's The Last Broadcast From Runnymede offers a perspective on Brunel's internal politics. I also aim to continue this occasional series of posts on Runnymede, its history, and its future.