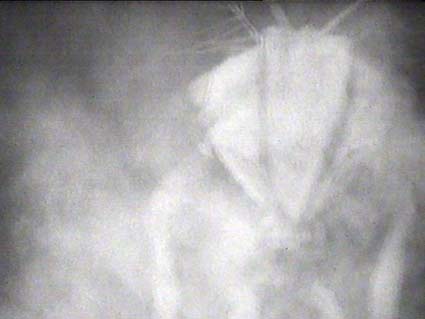 The figure of a Martian devil looms over London*: from Quatermass & The Pit, 1958, written by the late Nigel Kneale
A couple of years ago, after seeing a programme by Jon Ronson, I was reading about the First Earth Battalion and came across a link to an apparently real document, Nonlethal Weapons: Terms and References, edited by Robert J Bunker of the Institute for National Security Studies at the USAF Academy, Colorado. It's available on the Memory Hole, here.
Amid the various physical, physiological and psychological techniques described (some of which I'll be looking at in later posts, as they're pertinent to architectures of control), one section especially stood out – from page 15 of the document:
Now, these are interesting techniques. I don't know if 'hologram' is being used in the right way here, since these sound like simple projections, e.g. onto clouds (or maybe, in the case of the 'ghost' appearing next to the drug lord's bedside, some kind of volumetric display). And whether such projections would really work in terms of scaring or misleading the enemy – who knows?
Have they ever actually been used? Dummy tanks are a well-known way of deceiving an enemy, but would people be taken in by a "projection of the image of an ancient god"? How would they know that what they were seeing was the "ancient god"? If the image used were such a common representation that it was instantly recognisable, wouldn't it seem obviously fake? Or would any giant figure looming over a city scare people sufficiently, whether or not they realised what it was supposed to represent? (It's been suggested that the Angels of Mons, if they existed, may have been "images of angels that the Germans had projected onto the clouds at the outbreak of the battle in order to try and scare the troops on the opposite side…But apparently this idea had backfired, in that the troops had seen these images and believed them to be St George, Joan of Arc, actually leading them against the Germans.")
The projection of "soldier-force images" has more credibility. Odd atmospheric effects seem to be the explanation behind the various reflected "cities in the sky" that have occasionally been seen: taking this further, it is surely possible to create a mirage-like effect of a massed army to intimidate an enemy.
So, outside of the military context, is there potential for this kind of false image to be used to manipulate and control the public? Not obviously, perhaps, but as the police in many countries become increasingly militarised in outlook (particularly in "security" situations), would the tactic of projecting images of massed officers (maybe with riot shields covering their faces, to make extensive detail less necessary) be considered? Cardboard cutout police cars are occasionally used to scare motorists, as are fake speed cameras (often placed by members of the public) and, of course, fake CCTV cameras.
It also makes me wonder what the legality is of members of the public projecting images onto buildings, clouds, etc. Much of this so far has been done for promotional reasons – e.g. FHM's projection of Gail Porter onto the Houses of Parliament – or a technology college in Surrey, the day after A-level results:
"While projection on to a building is not illegal as such, you will be asked to move on by the police because laser projection is viewed as a distraction to drivers and hence a hazard," says Dominic Bean, formerly head of marketing and business Development at NESCOT. He used projections to promote North East Surrey College of Technology and found that the response from the authorities was far from harsh. "Policemen on Epsom Downs (ten miles away from the projection site) spotted our projection on to Tolworth Towers – near the A3 in Surrey," says Bean. "It took them nearly 50 minutes to drive over and ask for the image to be removed. They were amazed to see it, and saw the 'fun' side.
Guerrilla 'photon bombing' or 'projection bombing' clearly has a lot of potential for allowing members of the public, activists and counterculture groups to promote their messages, but so far doesn't appear to have been used for truly subversive ends on a large scale. There is some very clever work going on in this field, such as Troika's SMS Guerilla Projector, but imagine a politician's press conference where giant images of his opponent or opposing slogans are projected behind him, or a televised sports event where logos of the sponsor's rivals are projected (by someone in the crowd) onto the faces of players being shown in close-up. It may have already happened; if not, it won't be long before it does.
*I was reminded of this subject the other day by hearing a caller on Danny Baker's radio show, who commented that the shadow of a crane outside his window resembled "the shadow of a giant demon towering over London".
See also the 'scariest picture in the world', from Look Around You.