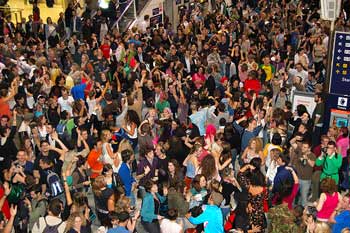 Image from Monkeys & Kiwis (Flickr)
Chris Weightman let me know about how it felt to watch last Thursday's iPod Flashmob at London's Liverpool Street station: the dominant sense was of a mass of people overturning the 'prescribed' behaviour designed into an environment, and turning the area into their own canvas, overlaying individualised, externally silent experiences on the usual commuter traffic.
Probably wouldn't get away with that sort of thing at an airport any more anyway, but what will happen to this kind of informal gathering in the era of the societies of control? When everyware monitors exactly who's where and forces the barriers closed for anyone hoping to use the space for something other than that for which it was intended?