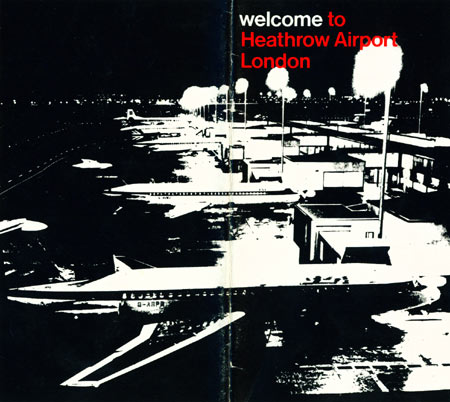 Mags L Halliday – author of the Doctor Who novel History 101 – let me know about an 'interesting' design tactic being used at Heathrow's Terminal 5. From the Guardian, by Julia Finch:
Flying from the new Heathrow Terminal 5 and facing a lengthy delay? No worries. Take a seat and enjoy the spectacular views through the glass walls: Windsor castle in one direction; the Wembley Arch, the London Eye and the Gherkin visible on the horizon in the other.

But you had better be quick, because the vast Richard Rogers-designed terminal, due to open at 4am on March 27 next year, has only 700 seats. That's much less than two jumbo loads, in an airport designed to handle up to 30 million passengers a year.

There will be more chairs available but they will be inside cafes, bars and restaurants. Taking the weight off your feet will cost at least a cup of coffee.
I suppose we should have expected this. If they weren't actually going to remove the seats, they'd have used uncomfortable benches instead. In itself, it's maybe not quite as manipulative as the café deliberately creating worry to get customers to vacate their seats that we looked at a few days ago, but as Frankie Roberto commented, "airports seem to be a fairly unique environment, and one that must be full of architectures of control."

Nevertheless, aside from the more obvious control elements of airport architecture – from baggage trolley width restrictors to the blind enforcement of arbitrary regulations, the retailers themselves are keen to make the most of this unique environment and the combination of excitement, stress, tiredness, and above all, confinement, which the passengers are undergoing:
The new terminal may have been heralded as a "cathedral to flight", but with 23,225 sq metres (250,000 sq ft) of retail space, the equivalent of six typical Asda stores, it is actually going to be a temple to retail. Heathrow may be packed with shops, but when the £4.2bn Terminal 5 opens the airport's total shopping space will increase by 50% overnight.

…

After security, two banks of double escalators will transport potential shoppers into a 2,787 sq metre (30,000 sq foot) World Duty Free store… Mark Riches, managing director of WDF, believes his new superstore has the best possible site to part passengers from their cash: "About 70% of passengers will come down those escalators", he said, "and we will be ready".

He recognises he has a captive audience: "If we can't sell to people who can't leave the building, then there's something wrong with us".

Mr Riches, a former Marks & Spencer executive, is planning "to put the glamour back into airport retailing" with plans for gleaming cosmetics counters and a central area reserved for beauty services such as manicures.

"We are moving away from just selling stuff to providing services. This should be real theatre," he said.

He is also planning what he calls "contentainment" – the music will change according to where you are in the shop and a 14-metre-long "crystal curtain" "bigger than a double decker bus and thinner than a calculator" will show videos, advertising and sports events.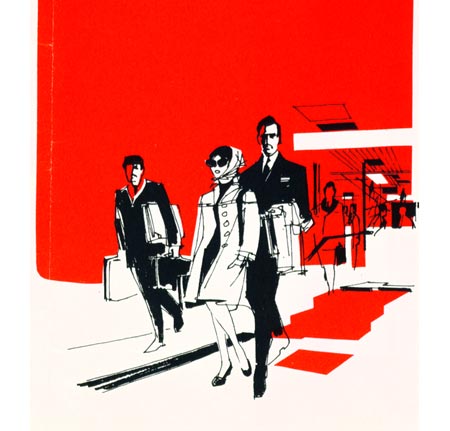 Everything about this story – from the location itself out on the bleak badlands between the M25 and A30, to the way the customers are coerced, channelled, mass-entertained and exploited, to the odd hyperbolic glee of Mr Riches' visions for his mini-empire – seems to scream J G Ballard. If Kingdom Come hadn't riffed off the Bentall Centre, it could surely have been about a Terminal 5.
Back to the practical aspects: the deliberate removal of public seating to force passengers to patronise restaurants and cafés is in no way isolated to Heathrow. In a coming post – also suggested by Mags – we'll look at First Great Western's policy of doing this in some of its railway stations, with none of the glitz of Terminal 5 but all of the cold-eyed distaste for the customer.
Images from a leaflet published by the British Airports Authority, 1970.